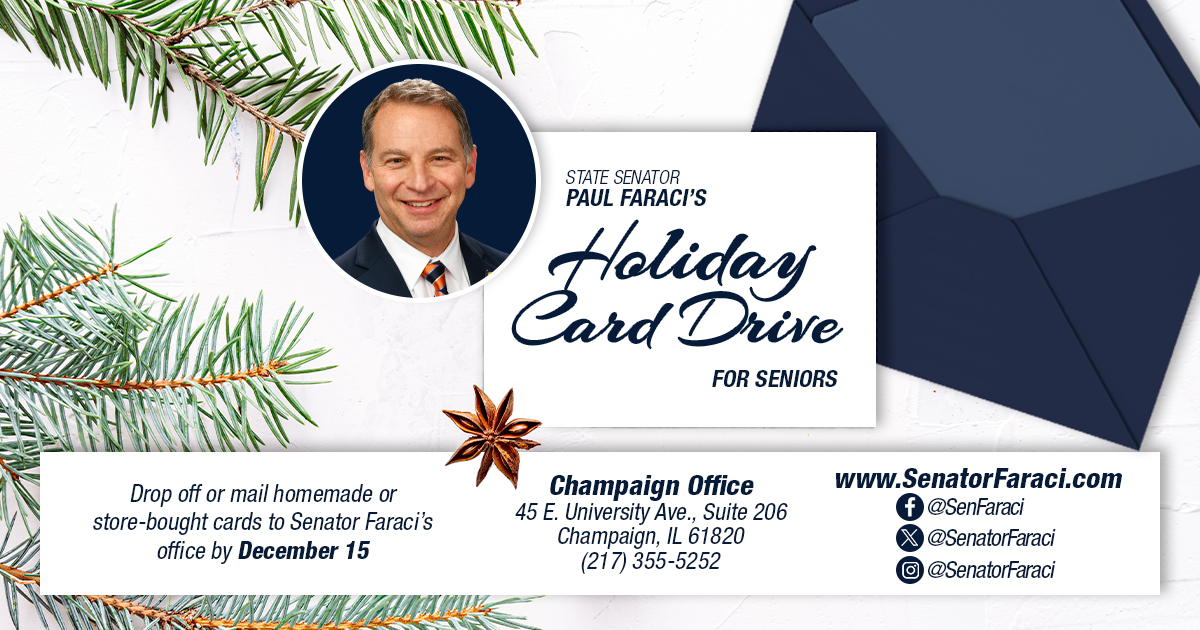 CHAMPAIGN – In an effort to make sure that no one living in a long-term care facility feels forgotten this holiday season, State Senator Paul Faraci is hosting a holiday card drive for seniors in Champaign County.
"The holiday season is about spreading love and joy, especially to those who may feel lonely or disconnected," said Faraci (D-Champaign). "This holiday card drive is a wonderful opportunity for our community to come together and bring smiles to the faces of our seniors."
Faraci is collecting store bought and handmade cards for Champaign County seniors this holiday season. People are encouraged to write kind notes and drop them off or mail them to his office, located at 45 E. University Ave., Suite 206, Champaign, Illinois 61820. The last day to drop off cards is Dec. 15. The cards will then be delivered to local long-term care facilities.
"I believe that even the smallest acts of kindness go a long way," said Faraci. "These cards will not only deliver holiday wishes but also serve as a reminder to our seniors that they are cherished and valued members of our community."
The goal of the holiday collection drive is to brighten the spirits of seniors who may feel isolated during the holiday season, fostering a sense of warmth and connection within the community. If you have any questions, please reach out to Senator Faraci's office at 217-355-5252.